Długi Targ 14-16, 80-828 Gdańsk
48 58 717 87 00
We serve Polish cuisine and more – our menu also includes Italian and French elements.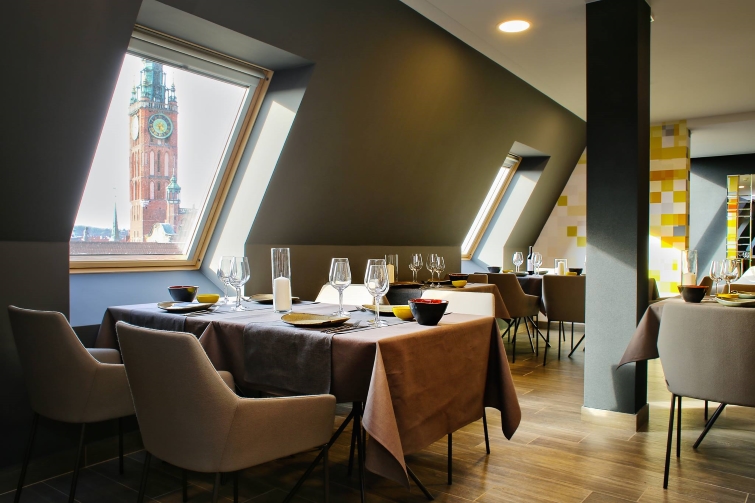 We love cooking, and the thing we love most about it is experimenting! This is why we decided to open a restaurant where the menu changes every couple of months, where the food is made with seasonal, and therefore fresh, ingredients, and which serves dishes of the day not included on the menu. After all, the world of flavours is vast and still unexplored, so why limit yourself? We love a good wine to bring out the flavour of our dishes, which is why our selection does not disappoint. You have a wide variety to choose from, and this applies to more than just the brand – you can get a glass to go with your dinner, or take a bottle home with you. Our recommendation? Why not both? ;) We would be remiss not to mention the view from our windows of the Gdansk Main Town. The vista is almost as broad as our culinary horizons! Now you know what you can eat and see at our restaurant, but you still don't know who you can meet… and at the heart of every restaurant are the people who work there. What is so special about our staff? Come and find out!
You can expect traditional Polish cuisine, such as zurek in bread or crumbed pork cutlets, but we also think outside the box and offer new takes on traditional dishes. Potato and cheese pierogi are a good example – we use baked potatoes and goats' cheese instead of quark, and serve them with beetroot sauce based on a vegetable demi-glace which we cook for 7 hours. Our traditional cream of tomato soup comes with spicy kale pesto, and our classic tartar – with boletus mushroom mousse and black truffles.

By far our most popular dish, and one which we recommend to everyone is goose meat pierogi with a cherry demi-glace sauce and fried boletus mushrooms.